Frozen Meat Slicer Machine Electric Meat Slicer Meat Cutting Machine ZMSD-300
Views:5 Author:Site Editor Publish Time: 2019-01-04 Origin:Site
Frozen Meat Slicer Machine Electric Meat Slicer Meat Cutting Machine ZMSD-300 Feature:


1. The whole body uses high quality aluminum alloy, good product mix, beautiful design.
2. The blade is made of stainless steel, firm and durable, confirms to the international sanitation standard.
3. The axle steel uses refined design, slides along smooth, firm and durable.
4. The new bottom plate is made of aluminum, firmer, more durable and beautiful.
5. The new handle, safer and beautiful.
6. The machine provides sharpener, which makes it more convenient, and strengthen the security.
7. The base can also be painted in different colors or be polished.
Descriptions:
It can be used to slice frozen and deli meat, ham, bacon, fish, cheese, bread, etc. The main body of it is made of aluminum alloy and
the blade is made of stainless steel. This model use beautiful design, easily to use, safe And durable. It is suitable for any hotel, restaurant,
catering place, food processing place and also household.
Model: ZMSD-300

Name: Meat Slicer/Paint Meat Slicer
Material: Body of aluminum,
Gravity slicer with blade sharpener
Dimension:480*595*450mm
Max Power: 380W
Voltage: 220V/50Hz
Cutting Thickness: 1-12mm
Blade: Φ300mm
Revolutions: 280/min
Cutting Length:255mm
Cutting Height: 200mm
N.W./G.W.: 20.6 kg
N.W./G.W.: 20.6 kg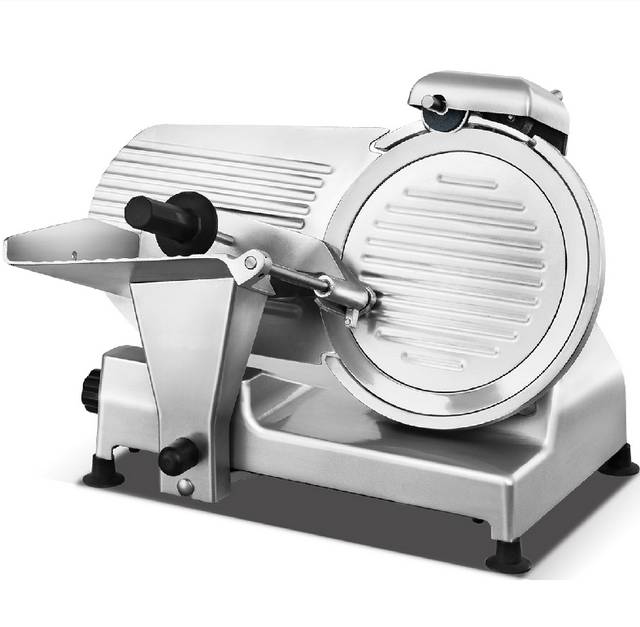 Details: